UAT Tester | 3+ Yrs | USA
Experienced
Full Time
Experience: 3+ Years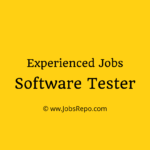 Website NTT DATA Services
Job Roles and Responsibilities:
The Tester will conduct all testing and evaluation of project initiatives and identify issues in software or services.
The Tester will analyze discrepancies in service or performance and make recommendations for product or service updates.
As necessary, the Tester will help with UAT testing to plan and organize UAT, coordinate and monitor testing, monitor defects, create defect reports, work with vendors and the state to resolve the defects/bugs.
The Tester will ensure software testing is done on-time and as planned and notify management about bottle-necks and other issues and risks.
Job Requirements:
Bachelor's degree with minimum 2 years of work experience OR minimum of 5 years testing work experience without a Bachelor's degree
Minimum 3+ years' experience on one or more Eligibility, Medicaid, or Health and Human Services (HHS) IT projects
Minimum 3+ years' experience involved in mid-scale or large-scale system development projects (including using test automation, test strategy, developing and executing test scripts and test plans)
Preferred Skills:
Ability to develop effective, positive working relationships with both internal and external contacts.
Strong verbal and written communication skills.
Working knowledge of MS Office products, e.g. Word, Excel and online applications.
Defect/bug management and familiarity with defect management tools (Bugzilla, JIRA etc.)
When you apply, don't forget to mention that you found this Job Post on JobsRepo.com