Independent Testing Specialist | 2+ Yrs | Bangalore & Hyderabad
Experienced
Full Time
Experience: 2+ Years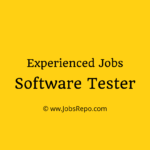 Website Wells Fargo
Job Roles and Responsibilities:
Participate in development and design of methodologies and standards for review activities companywide in alignment with the risk management framework
Ensure effective and appropriate testing, validation, and documentation of review activities for risk programs, risks, and controls according to standards and other applicable policies within Independent Testing
Support and implement less complex initiatives with low to moderate risk and exercise independent judgment to guide risk reporting, escalation, and resolution
Present recommendations for resolving more complex situations and exercise independent judgment while developing expertise in risk management framework and the risk and control environment
Collaborate and consult with colleagues, internal partners and management
Job Requirements:
2+ years of process and control Testing experience, or Internal Audit. Desired Qualifications:
Proven ability to work within a team environment as well as individual accountability.
Experience working knowledge in large complex organizations.
Understanding of US banking regulatory requirements and Process Control Testing / Internal Audit experience.
Tools/Systems needed: Microsoft Excel, Visio, and Word
Job Roles and Responsibilities:
May serve in either a control testing execution, participating in review activity engagements in a matrixed environment, and communicating emerging risks and progress to management. Completes review activities on schedule.
Raises schedule delays to the review activity lead / Manager.
Escalates any potential issues discovered during the completion of review activities to a review lead, and follows through on reporting, escalation, and resolution.
Completes all documentation under supervision and appropriately retains all work papers, (testing schedule, templates, work-papers, deferrals, deviations, etc.).
Supports and implements initiatives with low to moderate risk. Internal interaction with team to support risk oversight and monitoring. Limited to no external interaction.
Works independently; does not manage other team members.
When you apply, don't forget to mention that you found this Job Post on JobsRepo.com