Testing Analyst | Gurgaon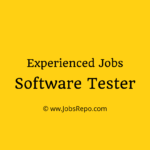 Website NatWest Group
Job Description:
As a Testing Analyst, you'll be supporting the completion of system integration, user acceptance and regression testing within release schedule deadlines, and escalating issues identified during testing to make sure adequate resolution or workaround is implemented.
You'll be proactively identifying areas for improvement, escalating through appropriate governance routes and working with others to ensure fit for purpose, client centric solutions. We'll look to you to provide a technical point of reference to the department on a day-to-day basis, and act as the first point of contact on key issues with associated internal and external businesses.
Job Roles and Responsibilities:
Making sure that the test solution is integrated into CI/CD pipeline built using Jenkins tool and custom code to identify functional and performance issues
Developing and managing automation solution suites using Python libraries to simulate data for AI models
Providing support in highlighting all software, including non functional requirements and hardware requirements and making sure that the test environment is fit for purpose through smoke or sanity testing
Reviewing, analysing and providing feedback on project documents to aid the creation of test plans, test schedule and test strategy
Producing test plans to detail the approach to the planning and execution of tests for a specific phase of testing aligning to the test strategy
Establishing and building relationships to facilitate the achievement of goals and support the momentum of projects throughout the project lifecycle
Job Requirements:
We're looking for someone with strong experience of test automation using industry recognised frameworks and test tooling and implementing testing best practice around functionality, scalability, availability and performance. You'll also have practical experience of automation testing, Cloud testing, AI and model testing, load testing and performance engineering along with a solid background in test analytics. You'll need strong organisational skills, and the ability to plan and prioritise your workflow effectively.
You'll also demonstrate:
Experience of systems development lifecycle
Experience of AWS Cloud platform, with integrations to other on-premises infrastructure and applications
Experience with AWS Cloud Watch, AWS dashboards and Ganglia to provide metrics
Experience in non functional testing-load, volume, stress, security, accessibility, compatibility, penetration and back-out
The ability to gather and interpret information from a range of different sources, and in a number of different ways
Excellent analytical skills
When you apply, don't forget to mention that you found this Job Post on JobsRepo.com