Test Lead – Automation Testing | 8 – 10 Yrs | Pune
Experienced
Full Time
Applications have closed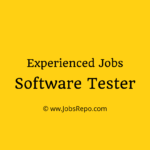 Job Roles and Responsibilities:
Complete Estimation, Test design, Test planning and Test execution for projects assigned.
Will be responsible for developing solutions to complex problems and establishing automated test scripts.
Continuously work on evaluating and identifying ways to improve the product Quality bar.
Mentor and guide other QA team members.
Continuously delivers and drives team members in delivering high-quality code, Test Cases, Test Artifacts, and product quality.
Should be able to understand and create clear strategies for converting requirements to Test Cases, Test Scenarios, and Automation Test Scripts on UI and API Layers
prioritizing opportunities to improve the speed and reliability of delivery lifecycles.
Participate as an active and core member of the Scrum team to ensure quality is built into products and take exposure to Agile Development Methodology.
Participates in Sprint planning and collaborates with the Product Management team.
Experience with tools like Functional Automation (UI) Tool, API Automation tools.
Exposure to the development code repository and DB architecture.
Defining quality standards and metrics for the product and sending crisp and clear status reports to all the stakeholders, post review from team managers and taking appropriate actions accordingly.
Create and Reviewing test cases, test scenarios, product documents based on software requirements and technical specifications, and appropriately prioritize testing tasks and test cases.
Participate in Bug triaging and measure to prevent them.
Be a SME for the Product
Ensuring several quality improvement tools like Unit Test, RCA Addition etc. are part of the development cycle, in case of conflicts resolve via upper management.
Responsible for generating and maintaining all the Quality Metrics for your Team.
Keep raising the bar and standards of all the quality processes with every version release.
Communication and maintaining cordial relationships with the development team and global counterparts for delivering quality products.
Initiate succession development.
Promoting solution-oriented and congruent approach
Passion & Tenacity.
Job Requirements:
Bachelor's degree in information technology or related field, or equivalent combination of education and experience, preferred.
8-10 years of experience Strong experience in Testing Concepts, Defect Management, Test Case writing and reviewing of test cases. Creating and maintaining API & UI test automation.
Must of Team Lead experience of at least 2 years
Hands on Experience with Database, ability write basic queries using SQL Plus and/or use correct filters using any tool for Database verification.
Hand-on experience in testing and automating integration platforms using REST APIs with Java/Groovy as the development language.
Hands-on experience on testing tools like RestAssured, Java Http client
Hands-on experience in Java/C# with Selenium Web Driver and other UI automation tools
Experience with source code repository (Git/SVN) along with build tools (Maven/Gradle)
Experience working in an Agile environment.
Experience in working with Product Engineering Setup is a Plus.
Creative, independent, self-motivated, and willing to learn modern technology.
Strong troubleshooting and root cause analysis abilities.
Excellent verbal and written communication skills
Exposure to BDD tools like spock, cucumber
Familiarity with Amazon Web Services or any other cloud infrastructure
Have a high bar for the quality of the product.
When you apply, don't forget to mention that you found this Job Post on JobsRepo.com