Test Engineer | Manual Testing | 4.5 – 8 Yrs | USA
Experienced
Full Time
Applications have closed
Experience: 4.5 - 8 Years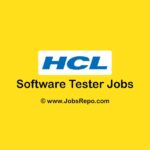 Job Description:
To plan, deploy and manage the testing effortorwork plans for the project [module] to meet the client orinternal requirements as per the quality standards prescribed.
To participate in functional as well as technical discussions with the client orteam to understand functional ordesign specifications ,highlight performance concerns, inconsistencies ,prepare automated test scripts,maintain test case suite,ensure the appropriate test environments and infrastructures are in placeorkept upto date.
To create reusable orscalable test automation framework, develop test strategiesorplans, maintain test data and to submit status reports for minimizing exposure and risks on the project or closure of escalations.
To develop and continuously improve automated tests as new system featuresor enhancements are developed and accordingly create work plans, monitor and track the work schedule for on time delivery as per the defined quality standards.
To developorguide and mentor QA engineers in the use of the testing framework , enhancing their technical capabilities and increasing productivity.
Knowledge & Skills:
Technical Skills (APPS)-Manual Testing-Manual Testing_Functional
When you apply, don't forget to mention that you found this Job Post on JobsRepo.com