Test Engineer – Automation | 2+ Yrs | Bangalore
Experienced
Full Time
Applications have closed
Experience: 2+ Years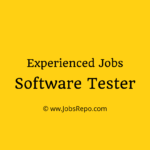 Job Roles and Responsibilities:
Carries out procedures to ensure that all information systems products and services meet minimum organization standards and end-user requirements.
Writes test plans and detailed test scripts supporting test cases derived from an analysis of functional requirements and programming specifications.
Thoroughly tests software to ensure proper operation and freedom from defects prior to implementation.
Documents and works to resolve all problems.
Devises improvements to current procedures and develops models of possible future configurations.
Performs work flow analysis and recommends quality improvements.
Establishes software quality standards for life cycle, documentation, development methods, testing and maintenance.
Establishes advanced software test standards and methods and conducts complex software tests.
Job Requirements:
Bachelor's Degree Computer Science, a related field or equivalent experience Req
Two (2) or more years related experience in quality assurance and testing Req
Excellent verbal and written communication skills, with proven technical writing abilities
Strong analytical skills, problem-solving ability and logical thinking capabilities
Excellent inter-personal skills, working in collaboration with onshore and offshore teams
Proven ability to work independent and productively
Adaptive for change and implementing new technologies & process
Should be proactive with a zeal to learn and have an inquisitive attitude
When you apply, don't forget to mention that you found this Job Post on JobsRepo.com