Test Engineer | 3 – 5 Yrs | Bangalore
Experienced
Full Time
Experience: 3 - 5 Years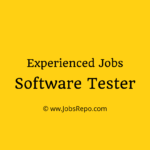 Website Hewlett Packard Enterprise
Job Description:
Test Engineer with experience in complex software test design and execution. Works closely with business and partner IT teams to understand business data, requirements, and integrations to ensure stable operations and to test fixes for bugs and build test new capabilities.
Job Roles and Responsibilities:
3-5 yrs experience in Testing.
Strong understanding of web applications, client-server architecture apps, and Salesforce.
Strong knowledge on Test Management tools like ALM, SPIRA
Strong analytical and problem-solving skills.
Expertise in authoring positive and negative test scenarios
Understanding of QA methodologies, life cycle and processes.
Strong working knowledge of SQL, understanding table structure and writing basic queries will be a plus
Prior Experience in Automation is an added advantage
Job Requirements:
Typically a technical Bachelor's degree or equivalent experience and a minimum of 3 years of related experience or a Master's degree and up to three years of experience.
Knowledge & Skills:
Secondary Skills:
Tosca, Automation, Manual, performance testing.
When you apply, don't forget to mention that you found this Job Post on JobsRepo.com