Test Analyst – Salesforce Test Engineer | 3 – 5 Yrs | USA
Experienced
Full Time
Applications have closed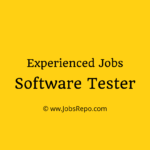 Job Description:
Test Consultants are concerned with the independent verification and validation of the products produced by the development process. Testing is carried out in each phase: the requirements are tested by an acceptance test, the system design (analysis and design) by a system and integration test, and the programs by a program and module test.
Job Roles and Responsibilities:
You design and develop more complex tests and non-functional tests. You perform many of the roles required of a software testing project, through which you acquire a full testing lifecycle experience. Typically you perform these roles as a senior member in a wider team. You act as a stream leader with technical delivery ownership within a limited number of technology areas. You contribute to bid or client proposals based on your technological expertise. You have delivery ownership and guide individuals and groups towards desired outcomes. You also actively participate in at least one community.
Job Requirements:
Qualification: 2 – 5 (1-year min relevant experience in the role), Bachelor's Degree.
Certification: Should have SE level 1 and seeking level 2.
Should be proficient in Business Analysis, Business Knowledge, Testing, Software Engineering, Architecture Knowledge, Technical Solution Design and Quality Management.
3-5 years of total testing and salesforce experience
Training on Testing Methodology and best Practices
Proficient in Oracle DB SQL statements
SOAP WEB services
Automation experience is nice to have
When you apply, don't forget to mention that you found this Job Post on JobsRepo.com