Technical Lead (Automation) | 5+ Yrs | Bangalore
Experienced
Full Time
Experience: 5+ Years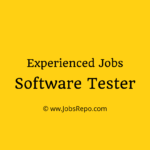 Website Infostretch
Job Description:
We are seeking an experienced automated tester with a minimum of 5 years of active Selenium Webdriver with Java OR C# OR Python (or doing automation using any professional tool), having strong OOP design knowledge, including extensive design patterns knowledge. They should have a proven track record for quality and performance of code deliverables, strong communication and client-facing skills with the ability to work in a consulting environment. They will have the opportunity to work in a number of different domains in a variety of different client environments.
Job Roles and Responsibilities:
Hands-on coding and proactively mentor automation engineers
Continually learn, mentor and develop your career
Willing to work on automation with any programming languages like Java / C# or Python
Work closely with clients, both in the Business Domain and with Technical staff members
Work in highly collaborative teams that strive to build quality code and provide business value
Provide automation solution by implementing proven design concepts
Work with team members and help them with technical/non-technical issues.
Job Requirements:
Excellent programming skills with Core Java OR C# OR Python, Selenium Web driver, JUnit or TestNG, Maven or ANT
5+ Years of  hands-on Experience on Automation with strong knowledge of OOPs
Adequate working knowledge of JUnit or TestNG
Extensive experience in automating RESTful and SOAP services
Desired experience in Mobile Automation or exposure to Mobile testing
Basic knowledge of SQL and/or any RDBMS
Knowledge of defect tracking and test management tools is desirable
Strong knowledge of build/deployment automation and continuous integration highly desirable.
Advanced understanding of source code repositories and branching and merging strategies.
Awareness to Software Development and Testing lifecycle
Works independently under minimal direction with strong work ethics
When you apply, don't forget to mention that you found this Job Post on JobsRepo.com