Systems Engineer | 6+ Yrs | USA
Experienced
Full Time
Experience: 6+ Years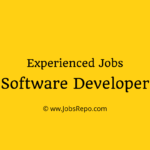 Website Verizon
Job Description:
An enterprise Backup/Recovery Engineer with in-depth knowledge of enterprise backup products and hardware solutions. You should be an expert at troubleshooting backup and recovery issues.
This position will need to be able to recommend, demonstrate, and implement technologies to help expand, upgrade, and increase efficiencies in the current Enterprise Backup environment.
Job Roles and Responsibilities:
Research industry trends to determine future Verizon enterprise storage direction. Perform online research and meet with various storage vendors to determine industry trends and new technologies.
Analyze data to identify potential benefits to Verizon related to cost, efficiencies, performance, data center resources, ease of use, and viability.
Provide feedback to vendors and determine medium and long-term direction for enterprise storage architectures and software products for Verizon use.
Working closely with the customer to resolve complex system level problems on multiple server platforms.
Capturing customer interactions in writing including investigation, troubleshooting, and resolution of issues.
Managing workload to ensure all customers issues are handled in a timely manner and driven to resolution.
Staging suspected issues with lab hardware to facilitate troubleshooting.
Documenting known issues, workarounds, and general information to add to the support knowledgebase.
Continually learning to stay informed of new product features, related applications, hardware and technologies.
Job Requirements:
You view technology through a lens of making things better and more effective. People count on you to have a strong domain experience in enterprise storage, storage networks, Netbackup environments and general computer engineering. The candidate needs to be someone who values teamwork and can contribute to the entire group who is a self-starter and self-motivated. You need to have a passion to learn and educate fellow teammates and guide them to follow the best practices. You are expected to Architect the solutions and deliver them by yourself or with the help of a team.
You'll need to have:
Bachelor's degree or four or more years of work experience.
Six or more years of relevant work experience.
Experience with Veritas Netbackup and/ or cloud solutions.
Knowledge of Enterprise Backup storage technologies (tape device, SCSI, SAN, iSCSI, etc).
Preferred Skills:
A master's degree.
Certifications in enterprise Netbackup and/or cloud solutions.
Six plus years' experience with Veritas NetBackup as an engineer and/or architect.
Five or more years of experience evaluating and recommending Enterprise solutions.
Knowledge of multiple Operating Systems is essential. Solid knowledge of UNIX and Windows Server, with a secondary knowledge of the other. Relevant platforms include Solaris, Linux, and Windows.
Great written and verbal communication skills, an ability to analyze and resolve complex problems with a positive, friendly, customer service attitude.
Expertise in troubleshooting and resolving complex Enterprise Backup problems.
Strong troubleshooting, follow through, interpersonal, verbal and written skills.
Able to maintain professionalism while under pressure.
Demonstrated ability to work with others in a team setting.
Experience resolving application and database performance issues, writing process automation (installation, configuration, problem diagnosis).
Knowledge of server applications (SQLServer, Exchange, SharePoint, Oracle, HANA, VMware).
Understanding of networking concepts and technologies.
Exposure to server virtualization platforms (VMWare, Hyper-V, OpenStack, CloudStack) and Cloud technologies (AWS, Azure, etc) is considered a plus.
Experience with Backup appliance hardware, deployment, and configuration.
When you apply, don't forget to mention that you found this Job Post on JobsRepo.com