Systems Analyst and Test Eng | 5+ Yrs | Bangalore
Experienced
Full Time
Applications have closed
Experience: 5+ Years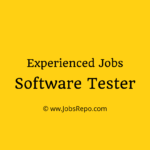 Job Roles and Responsibilities:
Possesses expertise in business analysis, Design, development and testing of Tableau dashboards
Possess good analytical, problem-solving abilities and be flexible to learn new things
Work with business analyst to understand the process, requirements, success criteria
Manage the periodic update of MnA integration playbooks in partnership with subject matter experts
Collaborate with acquired entities to identify and document system requirements
Participate in gap analysis efforts and own one or more gaps
Gather and track metrics for integration delivery
Manage the MnA team's MS Teams site and project channels
Manage CIT MnA SharePoint and regular content to increase usability
Provide input for continuous improvement and own assigned improvement opportunities
Provide administrative support to the MnA Portfolio Manager and MnA Program Manager
Proficient in using Microsoft products including PowerPoint, Excel, Vision and MS Projects
Additional Information:
Physical Requirements:
This position will be performed in an office setting.  The position will require the incumbent to sit and stand at a desk, communicate in person and by telephone, frequently operate standard office equipment, such as telephones and computers, and reach with hands and arms.
Travel Requirements:
Incumbent is not expected to travel
Working Hours:
Incumbent is expected to work primarily during standard business hours but may occasionally need to adjust schedule to accommodate the time zones of the acquired entity and/or team members located in another regional office.
This is a hybrid position. Hybrid employees can alternate time between both remote and office. Employees in hybrid roles are expected to work from the office two days a week, Tuesdays and Wednesdays with a general guidepost of being in the office 50% of the time based on business needs.
Job Requirements:
5 years of work experience with a bachelor's degree or at least 3 years of work experience with an Advanced Degree (e.g., Masters/MBA/JD/MD) or at least 1 year of work experience with a PhD
Preferred Skills:
5 years of work experience in information technology
3 years of progressive experience with increasing responsibility in Information Technology, Business Analysis, coding, and testing
Strong written and spoken communication
Experience documenting business requirements
Operate with a customer mindset
Requires exposure to multiple diverse technologies and processing environments
Prior experience in MnA integration
Demonstrated ability to succeed in a complex organization where the ability to partner with diverse stakeholders is critical to brokering solutions that are in the best interest of Visa as a whole
Working knowledge of corporate productivity technologies such as any of the following: Microsoft O365 (Outlook, Teams, SharePoint), open-source development tools and processes, corporate network concepts
When you apply, don't forget to mention that you found this Job Post on JobsRepo.com