System Test Engineer – Bluetooth Low Energy (BLE) | 1 – 5 Yrs | USA
Experienced
Full Time
Experience: 1 - 5 Years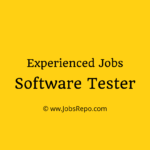 Website Qualcomm
Job Description:
We are looking for an engineer who will be responsible for system testing Bluetooth Low Energy (BLE) software and system for our next-generation Snapdragon based mobile chipsets. The engineer will be working closely with the development and systems team to characterize, optimize system performance KPIs and various algorithms; understand BLE specifications, protocols and work toward best-in-class inter-operability for our products.
Job Roles and Responsibilities:
Develop a system level topologies to best characterize the performance and functionality for new and advanced BLE based features like context awareness software. Develop a robust system level test automation framework that encompasses all elements of the topology. Work with software and systems to develop key performance indicators (KPIs) and use automated methods to characterize various algorithms and KPIs. Work with the Software and System team to optimize algorithms based on the characterization data. Additionally, participate in various industry interoperability events to identify any interoperability issues. Work on new technology advances, specifications and features that enable new use cases across multiple products segments of Mobile, Internet-of-Things (IOT) and Automotive.
Job Requirements:
Bachelor's degree in Engineering, Information Systems, Computer Science, or related field.
System test automation framework development
C# development and .NET framework; Java/JavaScript; Python
Android application development
System test experience in wireless communications and embedded devices
System-level debugging and issue isolation is required
Good knowledge of Bluetooth, BLE related specifications is highly desired
Good knowledge of Android application development is highly desired
Familiarity with various test and tools like packet sniffers, protocol parsers and RF testers are highly desired
When you apply, don't forget to mention that you found this Job Post on JobsRepo.com