SW Test Specialist | 7+ Yrs | USA
Experienced
Full Time
Experience: 7+ Years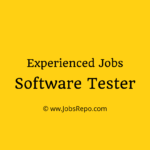 Website Amdocs
Job Description:
Responsible for segments of test planning, design and execution, meeting planned scope, schedule, and maintaining the engagement and relationship with the client/ internal customers. Provides recommendations for issue resolution, system optimization, and test efficiency.
Job Roles and Responsibilities:
Coordinate and perform test execution activities, including implementation of test automation procedures and scripts.
Determine the proper prioritization of the testing activities and ensure integrative work and full coverage of test scenarios based on the test plan and observations from concurrent testing activities.
Collect and analyze system behavioral results in order to provide recommendations for issue resolution as well as for system optimization.
Define the execution test plan, scope and resources required and design test solutions to be implemented and executed in alignment with the planned scope customer needs/use.
Responsible to maintain and enhance of the professional and business relationship with the customer and internal partners, as to act as a technical interface for team members and with other teams to resolve issues and communicate conclusions and recommendations.
Be a mentor for new team members, leverage knowledge across test Implementations and projects, and defines the best use/ reuse of testing tools and best practices. Support and promote test efficiency and optimization initiatives.
Ensure that product documentation, test ware and work products used in the activities are of the highest quality to ensure traceability, correctness and compliance to both internal standards and client needs.
Job Requirements:
Bachelor's degree in IT/ Computer Science/ Industrial Engineering/ System Analysis
7+ years of experience in SW testing, depth knowledge of testing tools and methodologies.
Telecommunication experience/ knowledge.
When you apply, don't forget to mention that you found this Job Post on JobsRepo.com