Staff Software Test Engineer, VISA B2B Connect | 5+ Yrs | USA
Experienced
Full Time
Experience: 5+ Years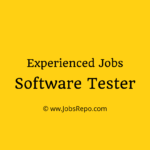 Website Visa
Job Description:
The Data Product Development Organization is currently seeking hard-working test engineers to work in the following areas:
Payment Systems Risk
Fraud and Authentication Services
Payment Security and Identity
Business Solutions
Loyalty and Marketing Services
Digital Marketing Experience
BI and Analytics
Job Roles and Responsibilities:
Write Automation test as well as manually test applications with different application components
Collaborate with business and technology partners to deliver high quality products and services.
Strive to deliver zero defect code.
Communicate status, issues, and risks in detailed and timely manner.
Address problems with a with a strong automation approach.
Build and document procedures for installation and maintenance.
Mentor junior team members, develop departmental procedures and standards
Find opportunities for further improvements and refinements to standards and processes
Collaborate with global teams on software development.
This is a hybrid position. Hybrid employees can alternate time between both remote and office. Employees in hybrid roles are expected to work from the office two days a week, Tuesdays and Wednesdays with a general guidepost of being in the office 50% of the time based on business needs.
Job Requirements:
At least 5+ years of relevant work automation and manual test experience with a bachelor's degree or at least 3+ years of relevant work experience with a master's degree.
Preferred Skills:
6 or more years of work experience with a Bachelor's Degree or 4 or more years of relevant experience with an Advanced Degree (e.g. Masters, MBA, JD, MD) or up to 3 years of relevant experience with a PhD
Expertise in API and UI functional, automation, performance and security testing along with familiarity of industry wide tools such as RestAssured, SOAP, Mocha, Cai, Cucumber, Selenium, etc
Expertise working on Java based automation framework, designing and building tools/utilities, test data management and improving overall testing effectiveness
Expertise writing and executing detailed test plans, test design & test cases covering feature, integration, regression, certification, system level testing as well as release validation in production
Must have experience in debugging and troubleshooting in Linux/Unix/Container based application servers such as Tomcat, VertX, WebSphere, Docker, Kubernetes environments
Must have experience in a technical capacity of quality methodology/release process/testing techniques to provide guidance to junior team members as required
Must have experience testing in an AGILE environment and should have exposure to testing environment migration, DB and infrastructure/system upgrades
Must have expert level knowledge and skills in Continuous Integration, Code/Test coverage and working in different testing methodologies
Adaptability, Flexibility of working across different types of projects, Strong communications and sense of ownership and driver ship is required working across teams
When you apply, don't forget to mention that you found this Job Post on JobsRepo.com