Staff Software Quality Engineer | 4+ Yrs | USA
Experienced
Full Time
Experience: 4+ Years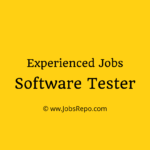 Website Stryker
Job Description:
As a Staff Software Quality Engineer you will develop and implement methods and procedures for process control, process improvement, testing and inspection to ensure that the products are free of flaws and function as designed. Analyze reports and defective products to determine trends and recommend corrective actions. Collaborate with supplier representatives on quality problems, ensures that effective corrective actions are implemented, and contributes to supplier quality improvement programs.
Job Roles and Responsibilities:
Partner with cross-functional project teams to lead product and/or process planning, design and development activities
Partner with Product Development to define requirements that will ensure appropriate level of rigor to software validation
Lead Risk Management activities throughout the product development life cycle
Partner with Product Development to perform risk evaluation of product design and to define design verification and validation test requirements that will ensure appropriate objective evidence is available to support the acceptance criteria
Provide guidance to the development team through Software Development and New Product Development process including demonstrating understanding of software lifecycle methodologies (e.g. Waterfall, Agile).
Develop quality assurance documentation to support regulatory submissions
Lead quality system maintenance for the division by identifying and correcting deficiencies in our procedures and practices
Manage, lead and/or assist in resolving nonconformities and corrective actions/preventive actions (CAPA)
Participate in internal and external compliance audits
Job Requirements:
Bachelors Degree & equivalent work experience in a software related role
4+ years experience working in a highly regulated environment, software related role, engineering, quality, manufacturing or new product development.
Preferred Skills:
Bachelor's Degree in Computer Science or related field of study strongly preferred
Prefer CQE certification or equivalent and Six Sigma Green or Black Belt
Experience as a Quality Engineer (QE) in a regulated design environment
Knowledge of medical device product development life cycle, including risk management and design/ process verification & validation and computer software validation.
Knowledge of FDA QSRs, ISO 13485 Design Control Procedures, IEC 62304 and ISO 14971
When you apply, don't forget to mention that you found this Job Post on JobsRepo.com