Staff Software Engineer – Big Data | 6 – 8 Yrs | Hyderabad
Experienced
Full Time
Experience: 6 - 8 Years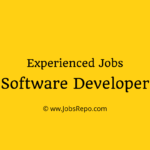 Website ServiceNow
Job Description:
Build the next-generation libraries, APIs and data pipelines
Create tools, libraries, and frameworks for can be reused for multiple applications
Apply new technology and innovation to improve platform functionality
Job Requirements:
Excellent skills with 6+ years programming using Java
Proficiency on scripting with shell and python
Good understanding of Object-Oriented methodologies, design patterns and data Structures
Strong skills working with SQL queries, including performance tuning, utilizing indexes/partitions, and materialized views to improve query performance.
Working knowledge of Hadoop components such as spark streaming, hdfs, hbase, yarn, hive and impala, kafka
Exceptional debugging, testing, and problem-solving skills
Good understanding of streaming technologies and real time analytics
Ability to learn quickly in a fast-paced, dynamic team environment
Self-motivated and willing to expand skillset proactively
Self-disciplined, organized, strive for clean and maintainable code
Highly effective communication and collaboration skills
6-8 years of overall experience with at least 2 in big data/analytics related positions.
BS or MS Degree in Computer Science or equivalent experience.
When you apply, don't forget to mention that you found this Job Post on JobsRepo.com