Sr. Software Engineer – Java Fullstack | 5 – 8 Yrs | Hyderabad
Experienced
Full Time
Experience: 5 - 8 Years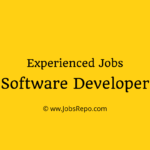 Website OpenText
Job Description:
As a Senior Software Engineer, you will utilize superior knowledge and experience to perform highly complex product architecture, design, systems analysis, research, maintenance, troubleshooting and other programming activities. You will also play a key role in the development of work teams by providing others with direction and leadership.
Job Roles and Responsibilities:
Produce high quality code according to design specifications
Utilize superior analytical skills to troubleshoot and fix highly complex code defects
Define best practices and standards for database design.
Serve as a thought leader, mentor and advocate for best practices concerning data Architecture
Lead software design/code reviews to ensure quality and adherence to company standards
Provide status updates to stakeholders and escalates issues when necessary.
Job Requirements:
Bachelor's degree in Computer Science or related field
5 to 8 years of enterprise product development experience
Strong OOD and Java programming experience is required
Good knowledge on algorithm design and analysis, including knowledge of data structures and design patterns
Fundamentally good programming and debugging skills
Strong hands on experience in Java, Spring, and J2EE technologies
Expert in Expert in Core Java, Backbone, Marionette, Javascript, HTML5, CSS, Spring, JPA/Hibernate, Postgres, REST, Gradle
Good hands-on experience with tomcat
Strong experience in database design, development and tuning. Experience with JPA/Hibernate
Good understanding of performance and security aspects of software development
Knowledge of JavaScript web frameworks: Marionette, Backbone, RequireJS, JQuery
Exposure to Gradle build automation and TestNG test automation
Exposure to container products such as Docker
Exposure to Web service technologies (REST or SOAP)
Good communication skills
When you apply, don't forget to mention that you found this Job Post on JobsRepo.com