Sr. Software Engineer – (Java/AWS/Docker/Kubernetes) | USA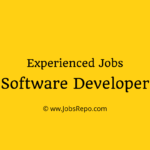 Website FICO
Job Roles and Responsibilities:
Design, develop, deploy, and support modules of large world-class enterprise-level product.
Enhance productivity and quality, coach and solve complex problems within technology areas. Involve in setting direction and overall vision for the product development.
Participate in architectural design of product.
Evaluate new design specifications and raise quality standards, address architectural concerns.
Evaluate stability, compatibility, scalability, interoperability, and performance of the software product.
Continually learn new technologies in related areas
Serve as a source of technical expertise and leadership to junior team members.
Job Requirements:
Bachelor's/Master's in Computer Science, related disciplines, or relevant experience.
Experience in developing enterprise-scale web/cloud-based commercial software products.
Well versed in Java development, particularly standard Java application frameworks such as Spring, and Spring Boot
Experienced in Kubernetes, AWS, Docker technologies
Experience designing, programming, and implementing large distributed systems with micro-services.
Experience with AWS, Google Cloud or Microsoft Azure.
Experience with versioning systems (such as Git), build tools (such as Maven, Jenkins).
Expertise in authoring, reviewing, and presenting technical documentation including technical requirements documents, architecture diagrams, and sequence/flow diagrams.
Experience in automated testing frameworks.
Ability to work well as part of a geographically diverse team.
Excellent analytical and problem-solving skills as well as written and verbal communication skills.
When you apply, don't forget to mention that you found this Job Post on JobsRepo.com