Sr. Quality Assurance Engineer | 3+ Yrs | USA
Experienced
Full Time
Experience: 3+ Years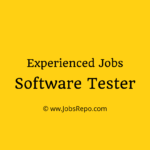 Website OpenText
Job Description:
In the QA Engineer role, you will be one of the primary contributors to OpenText Hightail, a cloud-based file sharing and collaboration service. You will work as part of a collaborative and co-operative Agile team to maintain the quality of the application. This role requires hands-on experience in Manual/Automated testing. Person should be able to manage all end-to-end testing activities and should be able to write Selenium-based automation test scripts.
Job Roles and Responsibilities:
Identify, isolate, regress and communicate bugs effectively and efficiently.
Writing automated test scripts using Selenium Tool.
Evaluate and communicate test coverage, *red flags- and anomalies to the Scrum team to aid in making the decision to certify releases.
Working knowledge in Agile/Scrum environment.
Possess strong problem-solving skills and the right attitude to debug.
Job Requirements:
3+ years of experience in the Quality Assurance area, operating at a similar level.
Experience on Selenium automation with API integration is must.
Knowledge of various software testing methods (e.g., Regression, Load/Stress, Code Coverage Analysis, Black/White box testing, Acceptance, Performance)
Excellent written and verbal communication skills.
Knowledge of various operating systems (e.g., Windows, macOS, Linux).
Knowledge of web technologies, specifically JAVA, HTML5, CSS3, JavaScript.
Knowledge of Document Management Systems and Cloud products.
Knowledge of relational databases (e.g., Oracle, SQL Server, PostgreSQL).
Experience with virtualization software.
Bachelor's degree or equivalent in relevant discipline.
When you apply, don't forget to mention that you found this Job Post on JobsRepo.com