Sr QA Engineer | 4 – 6 Yrs | Bangalore
Experienced
Full Time
Experience: 4 - 6 Years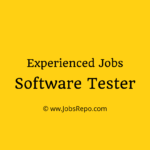 Website HPE
Job Description:
Applies developed subject matter knowledge to solve common and complex business issues and recommends appropriate alternatives. Works on problems of diverse complexity and scope. May act as a team or project leader providing direction to team activities and facilitates information validation and team decision making process. Exercises independent judgment to identify and select a solution. Ability to handle most unique situations. May seek advice in order to make decisions on complex business issues.
Job Roles and Responsibilities:
Must be hands-on. Be able to develop solid understanding of the system and be able to test the system.
Develop test plans, executes established test plans and protocols for assigned portions of code for end-user applications, systems software; identifies, logs, and debugs assigned issues.
Code and program test scripts, automation, and integration activities based on specific test requirements.
Participate as a member of project team of other software quality assurance engineers and internal and outsourced quality assurance partners to develop reliable, cost effective and high quality solutions
Designs quality assurance and test processes for portions and subsystems of end-user applications, systems software, and firmware running on hardware, local, networked, and Internet- based platforms.
Analyzes design and determines test scripts, coding, automation, and integration activities required based on general objectives and knowledge of overall architecture of product or solution.
Writes and executes complete testing plans, protocols, and documentation for assigned portion of application; identifies and debugs, and creates solutions for issues with code and integration into software and firmware architecture.
Leads a project team of other software quality assurance engineers and internal and outsourced development partners to develop reliable and cost- effective testing and quality assurance solutions for assigned applications portion or subsystem.
Collaborates and communicates with management, internal, and outsourced development partners regarding test status, project progress, and issue resolution.
Represents the software quality assurance team for all phases of larger and more-complex development projects.
Provides guidance and mentoring to less- experienced staff members.
Job Requirements:
Bachelor's or Master's degree in Computer Science, Information Systems, or equivalent.
Typically 4-6 years experience.
Using software quality assurance tools and processes.
Software testing methodology, including writing and execution of test plans, debugging, and testing scripts and tools.
Strong analytical and problem solving skills.
Excellent written and verbal communication skills; mastery in English and local language.
Ability to effectively communicate product architectures, design proposals and negotiate options at management levels.
Excellent analytical and problem solving skills.
Experience testing large systems.
Be strong in automation, understand what areas of testing can be automated, develop and execute an automation strategy.
Must be proficient in debugging and trouble shooting. Must have demonstrated ability to understand large systems, develop and execute test plans.
When you apply, don't forget to mention that you found this Job Post on JobsRepo.com