Sr. Full Stack .NET Developer | 7+ Yrs | USA
Experienced
Full Time
Experience: 7+ Years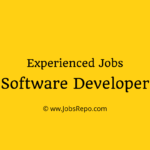 Website NTT DATA
Job Roles and Responsibilities:
Experience with best practices for code designs and development
Design and develop new features and/or maintain existing application.
Provide input on new designs and architecture as needed.
Develop a well-tested, high performance, scalable web application.
Develop cross browser, standard-compliant user interface components.
Experience with troubleshooting, bottlenecks identification and performance optimization.
Work the product backlog of features and bugs.
Work in a team environment to develop, test, and deploy software changes.
Work with customers to understand and implement new requirements.
Provide customer support when necessary.
Integrate user interface components with backend API.
Make use of Continuous Integration (CI)/Continuous Delivery (CD)
Make use of front-end JavaScript frameworks such as React, Blazor or similar web frameworks.
Stay current on new technologies and best practices.
Expectations:
Self-motivated and adaptable to learning and understanding new technologies.
Able to prioritize and manage multiple tasks to meet aggressive deadlines.
Strong analytical, problem solving, and decision-making capabilities.
Ability to work both independently and in a team environment.
Flexible and productive to work in a fast-paced environment.
Job Requirements:
7+ years of experience designing, developing, packaging and deploying SPA web applications.
5+ years of experience on development React/Redux, JSX, TypeScript.
7+ years of experience with HTML5, CSS3, JavaScript and Bootstrap
7+ years of experience of creating standards-compliant cross browser HTML code.
7+ years of experience with .NET Core Web API.
7+ years of experience with .NET Core Entity Framework.
7+ years of experience with SVN, Visual Studio, REST client.
7+ years of experience with MS SQL Server.
Preferred Skills:
Telerik Kendo React UI.
Integration testing using Selenium and SpecFlow.
Jenkins managements and jobs configuration.
Azure DevOps managements and jobs configuration.
Education:
BS/MS degree in MIS, CS, or related discipline is required.
Education requirement can be substituted with 10 years of relevant IT experience, considering qualifications requirements are met.
When you apply, don't forget to mention that you found this Job Post on JobsRepo.com