Sr. C# Software Developer Engineer | 5+ Yrs | USA
Experienced
Full Time
Experience: 5+ Years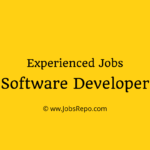 Website CSG
Job Roles and Responsibilities:
A passion for software development with a strong desire for continuous improvement.
Designs, analyzes, writes code, supports, and debugs CSG's customer-facing applications.
Ability to work within a cross-functional team to develop enhancements in a highly iterative fashion. Involves close collaboration with product owners, developers, testers and operational engineers.
Develops high impact, widely used applications where end-user expectations are high as it relates to process flow, effectiveness and responsiveness.
Active participation in planning, retrospectives, daily scrum, demo and team design meetings.
Ability to communicate with product owners, developers, testers, operational engineers, clients and end-users in a manner that helps continuously enhance the overall usability of the applications.
Perform under minimal supervision.
Job Requirements:
Bachelor's Degree in Computer Science or equivalent experience required.
5+ years development experience, preferably working with Microsoft development tools.
Key skills for this role include: C#, .NET, Win Forms, Web Services,  SOA, SQL Server and OO design.
Experience in Scrum / Kanban environments within an Agile framework
Beneficial skills include: Web development.
IT knowledge in software development methodologies/processes, design, implementation and documentation.
Experience in the Cable or Telephony industry is a plus.
When you apply, don't forget to mention that you found this Job Post on JobsRepo.com