Specialist, Quality Assurance Engineering | 2+ Yrs | Gurgaon
Experienced
Full Time
Experience: 2+ Years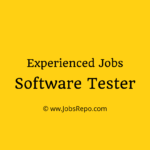 Website Fiserv
Job Requirements:
Post-secondary degree in business, computer science or engineering, and two+ years of relevant experience, or an equivalent combination of education and experience.
Familiarity with the retail banking industry and systems, multicurrency banking. Fiserv DNA® expertise is an asset.
Knowledge in at least one of the following areas: lending products, deposit products, card processing, e-channels, payment processing.
Knowledge of Canadian and\or U.S. banking products, regulatory requirements and reporting is an asset.
Testing experience with good understanding of Software Test Lifecycle including Test strategy, Test planning, Test cases design, Test data setup, Defect management, Test log, Test results, Requirements/Test traceability matrix and Test metrics.
Hands on experience on Functional and Systems Testing.
Strong analytical, troubleshooting and issue resolution skills.
Highly self-motivated that works with minimal supervision, is a fast learner and a team player.
Tools: MS Office, Microsoft Teams, JIRA, GitHub, TFS, ALM.
Development lab virtualization platforms such as Microsoft Azure and SkyTap.
Experience working on multi-site, multi-time-zone, agile teams – Eastern Time, Pacific Time, India.
Process understanding: SDLC and Agile Scrum.
Job Roles and Responsibilities:
Develop test strategy, test plans, and test cases for functional and performance testing. Collaborate with test automation teams. Configure test systems, create test data, perform testing, review test results – over UI as well as with SQL, create mandatory artifacts. Support security testing, 3rd party certification testing, and client testing.
Drive requirements and their reviews along with Business Analysts.
Conduct peer reviews of test condition/test cases/test data requirements created by testers and follow-up to close the review comments.
Identify and assess potential defects and report them in defect management tool.
Performs regression testing using test plans created, and updating the plans as needed.
During regression testing, analyzes test results from automated testing tool or manual tests in HP Quality Center.
Assist QA programmers with business aspect of automated scripting.
Perform project updates and manage testing artifacts in HP Quality Center tool.Collaborate on work breakdown and execution with focus on incremental and frequent delivery of value and quality to the client.
Estimate work, track status in self-serve workflow systems, provide updates on progress. Adhere to deadlines.
Learn and adhere to Fiserv processes, standards, frameworks, tools, development, and work management methodologies as pertaining to quality assurance. Take an active role in researching best practices in these areas to better serve company goals.
Assist in achieving a good level of teamwork, highlighting, and controlling issues in good time and proactively suggesting solutions to resolve problems.
Willing and able to work at an office and\or remotely (home) as required
When you apply, don't forget to mention that you found this Job Post on JobsRepo.com