Software Technologist I – Test | 5+ Yrs | Bangalore
Experienced
Full Time
Experience: 5+ Years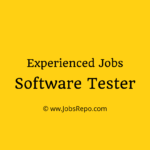 Website Philips
Job Roles and Responsibilities:
Performs the role of a test automation specialist
Analysis of requirements from the specifications
Define and write automation steps against the specification
Develop code to implement the automation steps
Execute the test automation on the required test infrastructure
Report out the results of automation in accordance with regulatory requirements.
Participates in Review of automation deliverables
Work with product owner to define program increment and sprint scope.
Work with automation developers to realize the test automation for multiple features in parallel.
Identify and retire technical risks through evaluations and feasibilities.
Identify and evaluate state of the art tools to continuously improve the test automation framework and process.
Own up the environment setup and upkeep of the same.
Job Requirements:
5+ years experience in software testing/development.
At least 3-4 years of experience in test automation. Functional and workflow based test automation.
Proven experience in Test Automation in a complex high tech environment
Hands on experience in using Java Script , Python .
Knowledge of BDD , Cucumber , Selenium . Knowing Cypress is a plus
Experience with setting up and maintaining a test automation infrastructure
Good experience on automation tools, scripting languages is required
Ability to locate and implement improvements in test automation framework/execution
Strong analytical and problem solving skills
Excellent coding and debugging skills.
Good communication and documentation skills
Good understanding/experience of the healthcare/Interoperability standards is an advantage.
Good understanding/experience in SAFe way of working
Knowledge & Skills:
Self-starter, quick learner, ability to work with teams across geographies.
Software Craftsmanship mindset.
Proactive and self-driven, possesses due sense of urgency.
Ability to stay focused on the target to deliver in agile manner.
Openness to collaborate in interest of project/organization.
Shall be very good technically; good problem solving abilities.
Working with multi site teams, Quality conscious and Process & customer Oriented
When you apply, don't forget to mention that you found this Job Post on JobsRepo.com