Software Quality Engineer | 3+ Yrs | India
Experienced
Full Time
Experience: 3+ Years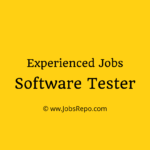 Website McAfee
Job Description:
We are looking for a new team member who is passionate about software quality, testing and automation who has also strong interest in cyber security and wants to join our collaborative team as a Software Quality Engineer. You will design and develop automation frameworks and tools to conduct functional, stability and performance testing on Cloud and OnPrem products and services. You will report to a manager within the Mobile Security Engineering group.
This is a remote position in India. We will only consider candidates currently in India and are not offering relocation assistance at this time.
Job Roles and Responsibilities:
Ensure that software releases meets quality, usability and performance expectations.
Work closely with different teams of developers, security researchers and architects to drive high software quality processes.
Understand different system requirements to design, create, execute and document test plans.
Design and develop automated tools or frameworks to ensure that software releases are of high quality and that they deliver on all requirements.
Research test tools and methodologies to improve existing software quality practices and processes.
Optimize software testing processes to make them more effective and efficient.
Job Requirements:
Your background includes 3+ years in software testing and development.
You enjoy automating test cases using different scripting languages and tools to improve the efficacy and efficiency of the software quality processes.
You are familiar with bug tracking systems like Jira and with different tools to perform functional, API and back-end manual and automated testing.
You have great communication skills and like to collaborate with different teams within the organization.
You work very well in a faster-paced, high-growth environment.
You are highly motivated with a strong passion for software quality, automation and cybersecurity.
When you apply, don't forget to mention that you found this Job Post on JobsRepo.com