Software Quality Engineer 2 | 3+ Yrs | Noida
Experienced
Full Time
Experience: 3+ Years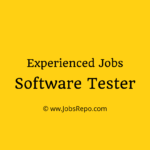 Website Adobe
Job Roles and Responsibilities:
Adobe Acrobat Web team is looking for an exceptional software quality engineer who can thrive in a fast-paced, customer-focused environment. The Software Quality Engineer will work closely with the developers and leads to understand the workflows and the existing test cases, create new test cases and then execute them.
Deliver the feature with highest quality.
Responsibilities include developing and executing test strategies to ensure product quality
Experience in designing, developing and maintaining the automation.
Work closely with development team to design and deliver the key product features
Maintain and create automation scripts. Ensure tight integration of test automation with CI/CD efforts.
Maintain exceptional development standards, especially related to performance, robustness, and testing.
Functional and non-functional test specification, execution and reporting
Proactively learn new languages, libraries, and platforms as needed. Adapt quickly to changing requirements.
Ability to troubleshoot equipment problems and perform complex system tests.
Job Requirements:
B.E/B.Tech/MCA in Computer Science or related.
Strong problem-solving skills needed to identify, research and resolve problems
Good coding skill in any programming languages and scripting languages
Hands on experience working with Automation framework- like Junit, selenium, Nunit, Web Automation Testing Tools.
Good knowledge of Basic of computer science fundamentals like, Data Structures / Algorithms
3+ years professional testing/automation experience on products or SDKs
Experience in designing, implementing and executing test cases and reporting metrics on quality
Working knowledge of test automation frameworks and architectures
Deep knowledge of the full software development life cycle.
Experience in creating and maintaining Unit Test/Coded UI Tests/Functional Test Development.
When you apply, don't forget to mention that you found this Job Post on JobsRepo.com