Software Engineer III – Python & C | 5+ Yrs | Bangalore
Experienced
Full Time
Experience: 5+ Years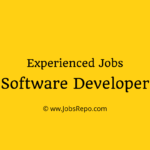 Website Rocket Software
Job Description:
The Software Engineer-III designs, develops, troubleshoots, and debugs software programs for software enhancements and new products. Develops software tools including operating systems, compilers, routers, networks, utilities, databases, and Internet-related tools. Determines software's compatibility with hardware and/or influences software's design in relation to hardware.
Job Roles and Responsibilities:
Good understanding of computer science fundamentals: algorithms, data structures, etc. acquired from education and/or experience.
Excellent programmer
Proficient at complex programming & knowledge of standard data structure and algorithms.
Make recommendations for each when solving technical problems.

Completes assignments in a timely manner and within quality tolerance. 

Write modular, maintainable code with some guidance.
Make the right trade-offs to efficiently solve problems.
Recognize impact software changes will have on systems.
Make component changes.
Understand and comply with provided requirements, translate them into code.
Understands the principles of hardware to make design decisions.
Link the work to the external market.
Build subject matter expertise within the current product domain.
Delivers well structured, tested, and documented code within agreed-upon timelines.
Provide reasonably accurate estimates of work.
Participates in all required meetings and agile ceremonies.
Keen to provide test coverage to protect against future changes.
Job Requirements:
Minimum 5 years of software engineering experience.
Bachelor's degree or equivalent.
Able to present a track record of software development in the real world.
Mastery of one or more programming languages.

Excellent code designing skills. 
Preferred Skills:
Writes code faster than the average developer.

Outstanding quality with few bugs in generated code.
When you apply, don't forget to mention that you found this Job Post on JobsRepo.com