Software Engineer II – Java/J2EE | 2 – 4 Yrs | Bangalore
Experienced
Full Time
Experience: 2 - 4 Years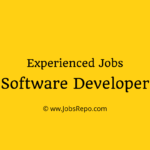 Website Philips
Job Description:
Use your technical skills to enable faster software development cycles and speed-to-market through build and deployment automation, to ensure high-quality releases by optimizing interfaces between development and operations, removing boundaries and impediments using agile methodologies.
Works with Leads to come up sub- system design​
​Can function as a Developer by developing code for the unit and reviewing
​Can play role of an integrator by handling configuration management.
Preferably, exposure to agile software project development, configuration management and testing automation.
Job Requirements:​
​2 to 4 years of experience in hands on technical expertise preferably in Java/J2EE with Sprint Hibernate
​Knowledge & Skills:
​Knowledge of J2EE architecture using Spring ​
​Knowledge of Design Patterns and Architecture patterns
Knowledge of Cloud/AWS
​​Experience of development projects or product development ​
​Related industry certification ​
​Detailed designing & programming skills​​ ​
​Preferably, exposure to agile software project development, configuration management and testing
​​Personal Characteristics:​
​Excellent oral and written communication skill ​
​Ability to absorb and retain information quickly ​
​Ability to present ideas in user-friendly language ​
​Highly self-motivated and directed
​​Keen attention to detail
​​Proven analytical and problem-solving abilities ​
​Ability to effectively prioritize and execute tasks in a high-pressure environment ​
​Exceptional customer service orientation ​​Experience working in a team-oriented, collaborative environment ​
​Positive attitude
When you apply, don't forget to mention that you found this Job Post on JobsRepo.com