Software Engineer – C# , Angular | 2 – 3 Yrs | Mumbai
Experienced
Full Time
Experience: 2 - 3 Years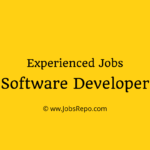 Website NEC
Job Requirements:
A strong and experienced .Net and AngularJS/Angular developer is required to work on the development project. The successful candidate will be required to:
Develop and debug, high quality software using AngularJS/Angular and C#.Net technologies.
Communicate and collaborate effectively with the various stakeholders to resolve requirements gaps and conflicts.
Create and execute comprehensive Unit Tests on developed software
Support and maintain developed software within agreed service level targets and quality objectives
Work effectively in a dynamic Agile software development environment
Promptly escalate issues which cause personal or team development to fall outside of agreed quality or timescale tolerances and to actively contribute to their resolution
Identify risks / issues and ways / options to mitigate / resolve
Pro-actively suggest and implement agreed process improvements that enhance the performance, productivity
Actively contribute to the continuous improvement of development processes that enhance the performance and quality of personal and team deliverables Work flexibly and imaginatively in a changing and evolving project environment.
When you apply, don't forget to mention that you found this Job Post on JobsRepo.com