Software Developer 2 | 7+ Yrs | Hyderabad
Experienced
Full Time
Experience: 7+ Years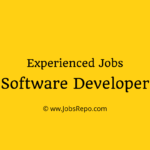 Website Oracle
Job Roles and Responsibilities:
Architect, Analyze, design, develop, troubleshoot and debug software programs for assigned functional areas of the application and related framework.
Able to explain software functionality from a user's or customer's perspective. Respond to feature and functionality questions from the various channels, including both internal/external customers and vendors.
May provide guidance, assistance, and technical leadership to lower level software engineers on more complex/large projects.
External interfaces include vendor support, engineering groups, project managers, and occasionally customers.
Occasionally designs and presents technical presentations to a variety of audiences.
Interact, liaise, and communicate status updates through development cycles.
Proven analytical and problem-solving abilities. Ability to quickly discern the most relevant facts and recommend the quickest, most practical, and safest approach to resolving an issue with a program or database
Clear understanding of Systems Development Life Cycle (SDLC) methodology and respective experience with its application in design and development phases
Partner with project managers and business analysts to review and understand business requirements, recommend solutions and provide level of effort estimates to complete customizations or configurations to the application.
Attention to detail and the ability to manage several tasks at once.
Outstanding communication skills (verbal and written) and an ability to communicate with internal and external customers and all levels of management, including communicating technical information to nontechnical audiences
Job Requirements:
Bachelor's Degree in Computer Information Systems, Engineering or related (Ideally in computer science or engineering)
7+ years of IT experience.
Preferred Skills:
Advanced SQL and PL/SQL based programming, tuning, and debugging skills
Oracle Forms, Reports, APEX desired
Data modeling experience
Ability to direct the construction of packages, triggers, and PL/SQL blocks in Oracle, as well as the Korn shells scripts that would be used to execute them.
Nice to have Knowledge of Delphi and .Net (C#, ASP.Net, MVC) development
Working knowledge of Jenkins, Maven, Build is plus
SVN, JIRA experience is plus
Experience of Install Shield desired
Experience of static code analysis and open source analysis is a plus
Agile Methodologies experience is plus
Design, develop, troubleshoot and debug software programs for databases, applications, tools, networks etc.
When you apply, don't forget to mention that you found this Job Post on JobsRepo.com