Software Dev Engineer in Test, FBA Inbound | USA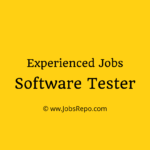 Website Amazon
Job Description:
As a Software Development Engineer in Test I on this team, you will be working in the test automation and infrastructure development, test new design and architectural choices which have a significant impact on our systems, our business and most importantly, our customers. You will be working directly with Developers, QA Engineers and Product Managers to ensure quality development and quality of our applications and platforms. We are working with exciting new technologies and solving complex automation problems across different operating systems. If you are creative, customer focused, have a passion for QA and test automation and enjoy working in a fast paced environment, this team is right for you.
Job Requirements:
A Bachelor's degree in Computer science, Software engineering or a related field.
Strong, object-oriented design and coding skills (C/C++ and/or Java preferably on a UNIX or Linux platform)
Knowledge of Perl or other scripting languages a plus
Experience with distributed (multi-tiered) systems, algorithms, and relational databases
Experience in optimization mathematics (linear programming, nonlinear optimization)
Ability to effectively articulate technical challenges and solutions
Deal well with ambiguous/undefined problems; ability to think abstractly
Preferred Skills:
Excellent verbal and written communication skills, especially excellence in technical communications with peers who may be remote.
Good knowledge of software QA methodologies, automation tools and processes with demonstrated experience in an SDET role
Ability to effectively articulate technical challenges and solutions
Shows creativity and initiative to improve product test coverage and effectiveness.
Experience working in an agile/scrum development process
Experience with performance and/or security testing is a plus
Understand software internals, debug code, automate repetitive tasks, and implement new tools and frameworks
Drive test automation to both ensure product quality and to contribute to Continuous Integration and Delivery efforts
Participate in design reviews, define Quality Metrics and implement measurements to determine test effectiveness, testing efficiency, and measure the overall quality of the deliverables.
When you apply, don't forget to mention that you found this Job Post on JobsRepo.com