SFDC QA Test Leader | 8+ Yrs | USA
Experienced
Full Time
Experience: 8+ Years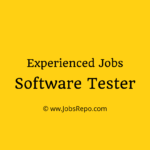 Website NTT DATA
Job Description:
As a QA Test Leader, you will have the opportunity to get in on the ground floor of a new division created within one of the largest technology providers in the world. We are building the next generation of digital services companies and believe clients are ready for a more nimble, agile partner to deliver outcomes across the SFDC platform- including Sales, Service, Marketing, Vlocity, Mulesoft, Tableau etc.
You'll help us by viewing this opportunity as more than a job, but an opportunity to mold the business and as a place to grow your career with a core group of highly talented individuals across the US, Costa Rica, Canada, and India. We put an emphasis on training, improving consulting skills and helping you achieve certifications. You'd be joining a company that has 3,000+ SF certifications, so you know you are part of a highly skilled team that values investing in team education and skill-building.
Our QA Test Leaders are fundamental to ensuring the digital technology and related services that NTT DATA builds for our clients are valuable, intuitive, and impactful. The work of QA Test Leader provides our clients and team with support, leadership, and direction to make sure projects are executed well and to deliver the engagement as promised.
Job Roles and Responsibilities:
Create test plans and test cases to cover the documented business requirements and design specifications.
 Execute test cases and record results. Consult with project team on questionable issues before opening defects.
Report test status and test metrics daily in the project tool (e.g. Jira, TFS, etc.)
Participate in team status meetings and contribute information to status, risk, and issue reports.
Ensure functionality is delivered per the SOW. Identify deviations and communicate to project leadership.
Follow all project standard operating procedures (SOP) related to time reporting, DevOps, reporting status, updating PM/ticketing system for assignments, bugs, events, incidents, requests, changes, problems, etc.
Guide QA Team efforts towards successful project delivery
Provide technical leadership to teammates through coaching and mentorship
Identify and encourage areas for growth and improvement within the team.
Job Requirements:
8+ years' experience in a Salesforce consulting role
8+ years' experience testing in Salesforce Applications
5+ years' experience leading a team of 2+
At least one Salesforce Certification
Preferred Skills:
Prior experience with a software development methodology, Agile preferred
Excellent written and oral communication skills
Excellent organization, follow up skills, and attention to detail
Experience in effectively managing communications, conflicts, and negotiations, identify operational issues/risks, recommend, and implement strategies to resolve problems, and monitor and measure client satisfaction
Ideal Mindset:
Problem Solver. You are creative but also practical in finding solutions to problems that may arise in the project to avoid potential escalations.
Analytical. You like to dissect complex processes and can help forge a path based on your findings.
Self-driven. Motivated individual who can efficiently influence delivery in complicated matrix organization
When you apply, don't forget to mention that you found this Job Post on JobsRepo.com