Senior Systems Test Engineer – Autonomous Vehicles | 3+ Yrs | USA
Experienced
Full Time
Experience: 3+ Years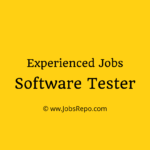 Website NVIDIA
Job Description:
The Automotive Vehicles team is searching for a creative and experienced Senior Systems Test Engineer to help us bring NVIDIA's autonomous vehicle solution out to the world. You will participate in a focused effort to develop and productize ground-breaking solutions that will redefine the world of transportation and the growing field of self-driving cars. You will work with hardworking and dedicated multi-functional engineering development teams across various vehicle subsystems to integrate their work into our AV SW platform, while achieving or exceeding all meaningful NVIDIA and automotive standards & guidelines. You'll find the work is exciting, fun, and relevant. We have deadlines, customers, and competition.
Job Roles and Responsibilities:
Create/Lead test strategies and test plans for new features proactively addressing gaps in coverage and frameworks and mitigating risks to the project.
Provide concrete insights from analysis to improve the quality of new features.
Create/Lead and maintain dashboards that allow others to understand software performance.
Quickly triage, prioritize, and propose resolutions to problems in simulated or on-road testing environments.
Collaborate with engineering, data science, and release to monitor and enforce robust criteria for measuring and gating releases.
Root cause areas that most commonly break out builds and work with engineering teams to design processes and ensure protection moving forward.
Represent test tooling and infrastructure needs to prioritize and test early deliveries of new tools.
Prototype & pilot new/improved processes to unblock product execution, and mature them to the point where they can be mostly automated and/or delegated.
Job Requirements:
BS, MS, or PhD in Mechanical Engineering, Electrical Engineering, Aerospace Engineering, Physics, Computer Science, or another related field (or equivalent experience)
3+ years of experience in system test, automation and root-cause analysis in fields similar in complexity to autonomous driving
Substantial experience with Python/C++ and SQL in a software driven environment.
Strong leadership and interpersonal skills, with the ability to drive alignment across large organizations
Preferred Skills:
Experience with autonomous vehicles and/or machine learning
You have experience working with large datasets, SQL and Python or C++
Experience with start-ups and/or early-stage products
When you apply, don't forget to mention that you found this Job Post on JobsRepo.com