Senior SQL Developer | 6 – 9 Yrs | Hyderabad
Experienced
Full Time
Experience: 6 - 9 Years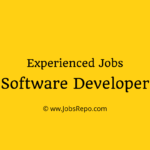 Website Epiq
Job Description:
This position is primarily responsible for designing, developing, and maintaining Epiq Systems enterprise level software solutions
Qualification:
B. Tech or B.E degree in Computer Science or related engineering streams/ M.S. in Computer Science
Job Roles and Responsibilities:
Translate business requirements into intuitive software solutions.
Participate in the development and maintenance with coding, testing, and deployment.
Estimate assigned work effort and be accountable for deliverables and completion dates.
Provide analysis, recommendations, and solutions to improve performance, security, and scalability of software and services.
Troubleshoot and product bug correction.
Performance tuning of difference SQL queries, Stored Procs
Designing Database.
Maintaining and monitoring SQL jobs.
Job Requirements:
 Exceptional interpersonal and organizational skills to effectively collaborate with a multifunctional team.
Understanding of software development lifecycle like Agile and Waterfall.
6 to 9 years of experience with SQL.
Strong understanding of SQL Server query plan analysis and optimization.
Minimum 3 years of experience in data modeling.
Minimum 2 years of experience with SSIS and SSRS.
Minimum 4 years of experience with SQL Server 2012 or higher.
Strong understanding of SQL admin tasks.
Experience working with source control management software such as Git and TFS
Experience working with ALM tools such as VSTS(AzureDevops) or Jira
Experience developing and maintaining ETL procedures
High energy, proactive and approachable personality who enjoys solving diverse problems
Proven problem-solving abilities and creative thinking
Ability to positively interact with all members of development team and product teams
Thorough understanding of object-oriented development theory
Self-starter capable of working on small teams in a fast-paced environment
Personal Attributes:
Strong communication and negotiation skills
Must be proficient in English (both written and spoken)
Must be Analytical and possess good problem-solving capabilities
Independent Thinker
When you apply, don't forget to mention that you found this Job Post on JobsRepo.com