Senior Specialist – Cloud Services and Software | 3 – 5 Yrs | USA
Experienced
Full Time
Experience: 3 - 5 Years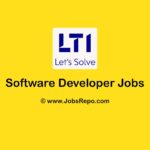 Website Larsen & Toubro Infotech Ltd
Job Description:
We are seeking for an Agile Coach to join us to help us grow and transform our Agile landscape.
This Individual will guide multiple teams on Agile principles and practices, demonstrate courage to challenge and advise teams and stakeholders, including senior leadership, enable teams to realize objectives and deliver on KPIs, and assess and enhance Agile maturity of teams.
Job Roles and Responsibilities:
As a servant leader and change agent, coach, inspire and mentor teams on Agile principles values and practices while role modeling clients leadership behaviors.
Facilitate and reinforce Agile practices for multiple teams working toward common business outcomes, including backlog refinement and prioritization.
Understand and support implementation of metrics to optimize delivery of KPIs through the assessment of responsiveness, quality, productivity, and customer and business value.
Support multiple Agile teams to ensure progress toward objectives, goals and commitments. Guide assigned Agile teams to deliver the required product increments.
Actively raise observed issues and remove impediments; resolve conflicts within and across teams. Anticipate challenges, identify risks, and recommend mitigations and solutions.
Continuously assess the Agile maturity of teams and individuals at all levels of leadership, educating and mentoring to address gaps.
Participate in both the internal and external Agile community to stay abreast of challenges, leading practices, and emerging trends; utilize learnings in furthering the effective use of Agile practices.
Facilitate open communication among teams and stakeholders; promote positive team dynamics to ensure members collaborate and work effectively within and across teams.
Use coaching techniques that increase collaboration, transparency and promote a culture of experimentation and innovation.
Job Requirements:
Bachelor's degree preferred.
3-5 years of Agile experience preferred with a track record of leading teams to higher Agile maturity.
3 years of experience as a coach preferred.
2 years of experience championing organizational change initiatives preferred.
3 -5 years of experience implementing Agile principles and practices in different cultures and environments preferred.
Knowledge & Skills:
SPC5 certification is must
Salesforce Implementation Knowledge must
Insurance Knowledge is must
CSM is plus
When you apply, don't forget to mention that you found this Job Post on JobsRepo.com