Senior Software Engineer – Testing | 4 – 7 Yrs | Gurgaon
Experienced
Full Time
Experience: 4 - 7 Years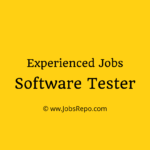 Website Stryker
Job Roles and Responsibilities:
Together with the software team, develop a testing strategy for testing during the developmental phase.
Develop the verification and validation strategy/plan that meets the SDLC requirements within the project timeline and resource constraints
Develop software test cases to verify the software requirements.
Execute non-function testing which involves accuracy, reliability, performance.
Execute formal system verification testing together with the end users
Support other projects during research phase of product development.
Job Requirements:
Proficient in SDLC, Test Methodologies, Bug Lifecycle, Test Case development, Risk Assessment
Working experience in teams following Agile methodology.
4-7 years of work experience with educational qualification: B.E/B. Tech in Computer Science, MCA or any equivalent qualification.
Prior experience in development and execution of application system testing in a product development environment.
Prior experience in non-functional testing which includes accuracy, reliability, performance
Experience in developing test strategy and managing test activities.
Excellent at designing and review of test case, test plan, test reports.
Analytical, restorative, and strong communication skills.
Ability to drive towards root cause identification and resolution
Enjoys being part of an international team. Fluent English required.
Strong interpersonal skills and people influencing skills. Should be able to negotiate between the development team, systems, quality, and project manager.
Excellent organizational and documentation skills.
Open and quick to learn and explore new tools and technologies
When you apply, don't forget to mention that you found this Job Post on JobsRepo.com