Senior Software Engineer | 5+ Yrs | USA
Experienced
Full Time
Experience: 5+ Years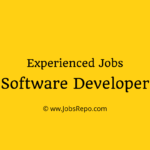 Website Nordson
Job Description:
Design, develop, test, and debug embedded system software written in C/C++.  This position will require working as an integral part of the total development team with other software engineers, hardware engineers, test engineers, marketing, and manufacturing.  Provide innovative and cost-effective solutions that meet customer requirements.
Job Roles and Responsibilities:
Participate in the entire product development process, including:
Product definition and design specifications
Evaluates alternative solutions and make recommendations for optimal technical approaches.
Design and implement high quality software solutions to meet or exceed product requirements
Participate in the development of software to support factory test equipment
Work with hardware engineers on defining interfaces and making hardware/software trade-offs
Perform thorough testing and evaluation of software to ensure maximum quality levels and complete functionality
Troubleshoot and debug software issues in a timely and effective manner
Work with Software Quality Assurance group to validate software
Job Requirements:
 BSEE or BSCS preferred with other degrees considered with appropriate experience
5+ years of experience in embedded software development using C/C++.
Experience with embedded microcontrollers (ARM preferred)
Experience with real time operating systems and various commercial libraries (Segger preferred)
Experience using debugging tools and test equipment.
Knowledge & Skills:
 Self-motivated and passionate about your work and embedded systems
Extensive programming experience in C/C++
Good grasp of software design principles and software development processes
Familiarity with test engineering to support factory test interfaces
Ability to troubleshoot software using S/W debug tools, test equipment, and electrical schematics
Strong interpersonal, oral, and writing skills
Ability to work well independently and within a team environment
When you apply, don't forget to mention that you found this Job Post on JobsRepo.com