Senior Software Developer – Python | 3+ Yrs | Hyderabad
Experienced
Full Time
Experience: 3+ Years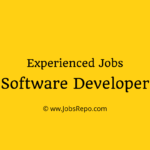 Website S&P Global
Job Description:
This is the place to hone your existing software development skills while having the chance to become exposed to the latest cutting-edge technologies available in the market. Alongside you get opportunities to
Work with a skilled team while shaping the future of our products.
Build a next-generation financial product that consumers can rely on in order to take their financial decisions.
Opportunity to work on next-generation products from a backend perspective.
Expand experience with modern cutting-edge technologies like the front end, DevOps, and cloud technologies.
Willingness to learn & master new technologies. We cross-train team members, for a versatile Full Stack experience.
Job Roles and Responsibilities:
Design, develop, test, document, deploy, maintain, and improve software
Manage individual project priorities, deadlines, and deliverables
Work with key stakeholders to develop system architectures, API specifications, implementation requirements, and complexity estimates
Test assumptions through instrumentation and prototyping/POC
Promote ongoing technical development through code reviews, knowledge sharing, and mentorship
Job Requirements:
At least 3 years of direct experience developing SaaS applications within a team
Thoughtful and efficient communication skills (both verbal and written)
Experience developing SaaS application backends and APIs using a variety of tools
Experience turning abstract business requirements into concrete technical plans
Experience working across many stages of the software development lifecycle
Sound reasoning about the behavior and performance of loosely-coupled systems
Proficiency with algorithms (including time and space complexity analysis), data structures, and software architecture
At least one domain of demonstrable technical depth
Technology You'll Encounter: Python 3, .NET Core, Javascript/Typescript, PostgreSQL, AWS RDS, Elastic Search, MS SQL Server, Git, Docker, Kubernetes, RabbitMQ, Kafka, Redis
When you apply, don't forget to mention that you found this Job Post on JobsRepo.com