Senior Software Developer – Hadoop/Cloudera | 5 Yrs | USA
Experienced
Full Time
Experience: 5 Years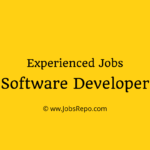 Website IQVIA
Job Roles and Responsibilities:
Conducts and coordinates the analysis, design and implementation of computer based information systems to meet user requirements.
Lead and mentor other developers.
Plans and directs preliminary studies of potential applications and prepares design proposals to reflect costs, time and alternative actions to satisfy existing and future needs.
Participates in systems software development and maintenance as required.
Conducts detailed analyses of defined systems specifications, develops all levels of block diagrams and flow charts.
Assists in the preparation of costs analyses and justifications of data processing systems.
Develops conversion and system implementation plans.
Conducts a full range of programming tasks including program design, program coding, debugging, and documentation for a variety of general applications programs including data manipulation, input and output routines.
Programs logical interfaces and applies techniques for efficient program logic and data manipulation.
Develops operator and control instructions. Maintains and updates existing programs of a non-routine nature.
Conducts systems programming and support activities such as new or revised segments of language codes or processing.
May identify and implement root cause fixes to program, system and/or applications errors.
Monitors effective hardware utilization, reviews system logic for optimum throughput.
Work frequently includes program maintenance error detection & correction of existing codes and/or revisions to systems documentation.
Job Requirements:
Bachelor's Degree Computer Science or related discipline, or knowledge acquired through equivalent experience Req
Five (5) years experience in systems analysis/application programming Req
As an alternative to the experience requirements listed above, possesses a minimum of two to five (2-5) years of related experience in Information Technology with a specific Technology Experience Ratio of 50-75% or higher (years of experience in the specific technology ¸ years the technology has existed). Req
Demonstrated basic and some specialized systems and programming knowledge
Exp. with Spark, Scala, Hadoop, Impala, SQL a plus
When you apply, don't forget to mention that you found this Job Post on JobsRepo.com