Senior Software Developer Engineer Test | 5+ Yrs | USA
Experienced
Full Time
Experience: 5+ Years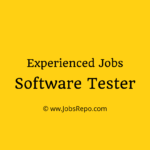 Website State Street
Job Roles and Responsibilities:
Develop automation framework using Java and related tech stack.
Develop API's facilitating the creation of rich automation test suites by the product development teams.
Provide some C# automation support and guidance to Dev Teams.
Debug and correct problems in the automation infrastructure code.
Perform performance profiling of code and systems and propose solutions to address defects.
Provide support for Linux and Windows environments.
Provide support for Oracle and MSS environments.
Analyze systems and procedures and implement necessary improvements.
Engage with teams/projects to assess their maturity level and recommend and/or assist in implementing test automation for the given functional area.
Create comprehensive test automation scripts from business requirements and functional specifications documents for product features of moderate complexity.
Execute automated functional, integration, regression, and performance tests.
Maintain automated script libraries for functional, integration, regression, and performance testing.
Interpret results of automation tests and document software defects in issue tracking system; proactively communicate issues with developers and other project team members.
Provide testing leadership by identifying opportunities for improvement in the Scrum team's QA automation methodology.
Keep abreast of automation technologies and best practices with an eye to evolving automation frameworks and testing methodologies.
Assist in driving mature test automation capabilities, such as BDD/ATDD capabilities that allow teams to shift testing and test automation as far left as possible.
Improve the Testing/automation architecture by continuously reducing the testing cycle time enabling the CI\CD models by working closely with various teams
Assist in developing the required testing automation dashboards to monitor application KPIs, utilizing relevant technology for effective quality assurance monitoring
Manage all test environments, test devices and OS versions required for testing
5+ experience with Java development.
Experience with Spring applications, JavaScript- based technologies and best practices a plus.
Experience in Micro services, Web services testing using SOAP and REST based service & XML, JSON.
Strong programming skills to be able to develop automation infrastructure effectively.
Experience with UI and API test automation tools. Silk4Net experience is a plus.
Hands-on experience in developing and maintaining automated test suites.
Experience with tools such as Selenium Webdriver, Gradle, Jenkins and GIT etc
Familiarity with Teamcity, Git, Confluence, JIRA, Docker, ELK stack. etc
Strong experience with database testing (Oracle, SQL/NoSQL).
Experience in cloud application projects preferably Azure.
Knowledge of Agile/Scrum Development processes, QA processes and standards.
Ability to conduct administration in Windows and Linux environments.
Ability to multitask ongoing project tasks while supporting a variety of incoming questions from the development community.
Experience in the financial industry a plus.
Experience working with mixed onshore/offshore teams.
Superior communication and organization skills.
Strong ability to work as part of a team, demonstrate initiative and solve problems independently.
Education:
B.S. degree (or foreign education equivalent) in Computer Science, Engineering, Mathematics, and Physics or other technical course of study or Business with an MIS background. MS degree strongly preferred.
When you apply, don't forget to mention that you found this Job Post on JobsRepo.com