Senior Software Developer | 2+ Yrs | Delhi
Experienced
Full Time
Experience: 2+ Years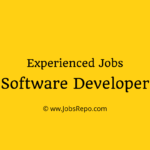 Website IQVIA
Job Roles and Responsibilities:
Under broad guidance, analyzes, designs, programs, debugs, modifies, and maintains software enhancements and/or new products used in local, networked, or Internet-related computer programs.
Under broad guidance, may interact with users to define system requirements and/or necessary modifications.
Prepares feasibility studies to evaluate requirements for new and revised programs.
Translates detailed design specifications into computer program instructions, debugs routine programs, prepares system test data and prepares program documentation.
Completes documentation and procedures for installation and maintenance.
Code may be used in commercial or end-user applications, such as desktop applications, mobile apps, financial management, or HRIS products.
Using current programming language and technologies, writes code, completes programming, and performs testing and debugging of applications.
Job Requirements:
Bachelor's Degree Computer Science or related discipline Req
Incumbent possesses and has demonstrated basic knowledge of systems and software development with a minimum of two (2) years of software development experience. Req
Lead the building of a dedicated, enthusiastic team of software developers and engineers.
Collaborate closely with developers and data scientists.
Build and own your team's roadmap, ensuring alignment with stakeholders in data-science and consulting functions.
Promote best-practice software development and related technologies and participate in the full software life-cycle.
Lead agile practices such as daily stand ups, sprint planning, sprint refinements, and retrospectives; work to fortnightly sprints and organize bi-weekly demos across multiple teams.
Deliver development reports, milestones and delivery schedules to the business.
Work alongside other team members such as Product Owners and Software QA to manage the development cycle from 'thought to delivery.'
When you apply, don't forget to mention that you found this Job Post on JobsRepo.com