Senior Software Dev QA Engineer | 3+ Yrs | USA
Experienced
Full Time
Experience: 3+ Years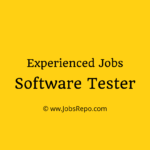 Website Fortinet
Job Roles and Responsibilities:
Develop and maintain developed QA test environment.
Write QA tests and report on issues found in new software and reliability.
Create, maintain, and execute test specifications and test cases.
Identify, document, and track software defects found during testing.
Work closely with developers to ensure defects are correctly identified and fixed.
Support customer issues and POC.
Job Requirements:
3+ years of operations experience in Unix/Linux environment is essential
Strong HTTP knowledge at the protocol level
Strong knowledge in one or more of the following areas: Ethernet, RSTP/ MSTP, VLANs, IP Routing, TCP/IP, DHCP, SNMP, 802.11 wireless protocol, BGP, IGMP, L2-L3 protocols, Platform validation, HA, QOS, network management
Strong knowledge in Windows AD, LDAP, and RADIUS server
Knowledge of TCP/IP networking, firewalls, switching and routing is essential
Good problem solving and troubleshooting skills
Highly motivated and responsible quick learner
Familiar with system installations, configurations, and troubleshooting
Knowledge of at least one scripting language: Shell, Ruby, Perl, Python, etc.
Knowledge of general QA procedures and methodologies.
Familiar with test environment set up for manual/automated, performance and scalability testing in ESX, Hyper-V, EC2 and KVM.
When you apply, don't forget to mention that you found this Job Post on JobsRepo.com