Senior Software Dev QA Engineer | 2+ Yrs | USA
Experienced
Full Time
Experience: 2+ Years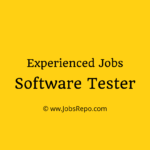 Website Fortinet
Job Description:
We are looking for a highly motivated, organized, and detail-oriented senior Software Development Quality Assurance Engineer to join our team. In this role, you will be validating ASIC (Applied Specific Integrated Circuit) drivers and software for our current and next generation products. In addition, you will use your knowledge of networking, operating systems, and automation to analyze and replicate issues reported internally and by our customers, isolate root causes, and verify bug fixes. You will be working alongside a closely-knit team of experienced software, hardware, and ASIC engineers.
Job Roles and Responsibilities:
Design, develop, and execute scripts, test plans and functional, regression and performance test cases, based on feature/hardware specifications.
Identify and document software defects found during verification.
Replicate and drive customer issues to resolutions.
Work closely with software/hardware developers, other QA teams, and support/field teams to ensure defects are correctly identified, reproduced, and fixed.
Contribute to the development, deployment, and operation of automated test cases and/or automation tools.
Job Requirements:
Master's degree in Computer Science, Engineering, or a related technical field.
Solid understanding of TCP/IP, routing, switching and firewalls.
Strong Linux command line skills, and the ability to use Linux effectively to create test environments and troubleshoot issues.
Demonstrated experience with Ruby.
Strong programming skills and knowledge of software development fundamentals.
Demonstrated ability to troubleshoot software and networks logically and analytically.
Fundamental knowledge of Linux operating systems internals, kernel, and drivers.
At least 2 years of experience troubleshooting and replicating complex network issues.
In-depth knowledge of 5 or more of the following: network packet analyzers (e.g., Wireshark), IPsec, IPv6 (IP version 6), TLS, benchmark testing, multicast, VXLAN, QoS (Quality of Service), building tools to generate traffic.
Understanding of quality assurance and test methodologies.
Demonstrated ability to produce clear problem statements and test reports.
Strong communications skills, and ability to work in a collaborative cross-functional environment.
Ability to work on assigned tasks under tight time constraints, complete tasks with minimal supervision, and research new topics.
Preferred Skills:
Extensive experience replicating network issues reported by a wide range of customers.
Experience building test automation frameworks.
Experience in using Spirent or Keysight (Ixia, Breaking Point) traffic generator is a plus.
Experience in using C.
When you apply, don't forget to mention that you found this Job Post on JobsRepo.com