Senior Software Automation Engineer | 6+ Yrs | USA
Experienced
Full Time
Experience: 6+ Years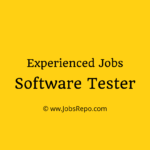 Website Verizon
Job Description:
As a Senior Software Automation Engineer, you will specializein developing automated solutions that will assist in managing enterprise environments. This position will lead large to enterprise-wide sized projects related to the Business Intelligence environments. Projects can range from reviewing new technologies, to evaluating/selecting tools/products, and providing input to other team members on how to set up these technologies and tools.
Job Roles and Responsibilities:
Develop automation frameworks that optimize resource utilization and improve overall product quality
Scripting and Languages (FastAPI, Python, Ansible, Jenkins, Powershell, Shell, Cobbler, SQL, Perl, UNIX bash, HTML, VB Script)
Technologies (ManageIQ, OpenShift)
Operating Systems (Linux, Windows)
Developing automation solutions to better manage platforms.
Partner directly with the business and application teams to assess new requirements and determine how best to apply emerging technologies to meet those needs.
Work directly with application teams to understand the requirements of the various end user requirements.
Shift: 8am – 5pm, some occasional night work, be part of on-call rotation.
Job Requirements:
Bachelor's degree or four or more years of work experience.
Six or more years of relevant work experience.
Even better if you have one or more of the following:
Experience with FastAPI, Python, Ansible, Jenkins, Powershell, Shell, Cobbler, SQL, Perl, UNIX bash, HTML, VB Script
Strong knowledge of system design and hardware at an enterprise level.
RHEL and administration experience.
Knowledge of Hadoop and Cassandra
Excellent technical/analytical skills.
Excellent interpersonal skills.
Ability to lead and to make decisions.
Strong organizational and problem-solving skills.
Excellent verbal and written communication skills.
Knowledge of project management concepts.
Relevant certifications.
Scripting and Automation experience
When you apply, don't forget to mention that you found this Job Post on JobsRepo.com