Senior SDET Developer | 5+ Yrs | USA
Experienced
Full Time
Experience: 5+ Years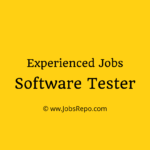 Website NTT DATA
Job Description:
NTT DATA has developed a reputation for delivering high-quality products to our clients, and as an SDET you will help us maintain this reputation by ensuring reliable performance in our deliverables. Your ability to provide feedback to our developers will ensure increased quality throughout the development process and a higher development velocity.
Job Roles and Responsibilities:
Partner with Development teams to review system requirements and technical design documents
Create, design, implement and maintain automation frameworks and test scripts
Work with QA engineer to convert manual tests into automated tests
Assist with test strategies to cover requirements, develop high-level test scenarios that implement the strategy, and elaborate scenarios into detailed test cases
Conduct testing, maintenance, and validation of all software products
Perform regression testing and debugging directly. Verify code patches and bug fixes.
Analyze and document test results and create detailed defect reports.
Be an advocate to help, rethink, and improve shift-left strategies.
Use the latest frameworks and tools.
Job Requirements:
5+ years experience in Automation or SDET.
1+ Year of Team Lead experience
3+ years experience in QA Automation Testing experience with Selenium Web Driver and Cucumber
Bachelor's Degree or higher in computer science, engineering, or related technical field.
Preferred Skills:
experience in Test-Driven-Development (TDD) and/or Behavior-Driven- Development (BDD) approaches
Onsite/offshore coordination skills.
Client coordination skills.
Ability to provide value add solutions from QA in a dynamic environment.
Strong QA Automation Testing Experience using Selenium Web driver.
Experience in Rest Assured (API automation tool)
Experience in automation framework creation and maintenance
Excellent programming in languages like Basic JAVA
Experience in UI and API automation
Ideal Mindset:
Lifelong Learner. You are always seeking to improve your technical and nontechnical skills.
Team Player. You are someone who wants to see everyone on the team succeed and is willing to go the extra mile to help a teammate in need.
Listener. You listen to the needs of the customer and make those the priority throughout development.
When you apply, don't forget to mention that you found this Job Post on JobsRepo.com