Senior Quality Engineer, Software (Hybrid) | 5+ Yrs | USA
Experienced
Full Time
Experience: 5+ Years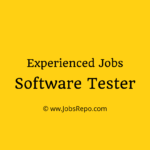 Website BD
Job Description:
The Senior Quality Engineer, Software is responsible for ensuring products are developed and released meeting customer expectation, regulatory requirements, appropriate voluntary standards, and BD policies and procedures. This position will work as a member of cross-functional project teams engaged in ongoing Product Life Cycle technical support. Will serve as a quality representative on project teams and will work closely with R&D, Operations, Regulatory Affairs, Marketing and Distribution. This position requires a self-directed individual able to prioritize different projects and tasks utilizing a high level of written and oral communication skills. In addition the incumbent may be expected to initiate quality initiative projects, become thoroughly knowledgeable with all aspects of Sustaining Engineering and/or New Product Development projects, and assume personal responsibility for the successful completion of all tasks within the realm of Quality Engineering responsibilities.
Job Roles and Responsibilities:
Participates on Project Teams as Quality Representative. Ensures that principals of Design Control are applied to Product and Process Changes and New Product Development.
Lead Quality Initiatives for electromechanical products that include the entire product life cycle (Development, Commercialization and Post Market Surveillance)
Creates reviews and approves Risk Management Files documents such as: Risk Management Report, Hazard Analysis, Risk Benefit Analysis and FMEA's
Leadership in failure investigations, corrective and preventive actions plan and continuous improvement projects.
Creates, reviews, and approves Design Specifications, Design Verification Protocols and reports, Process and Product Validations, Software Validation documents and Test Method Validations
Creates, reviews, and improves Quality System Documents (CAPA, Audits, Risk Management, Design Control))
Drives Reliability planning and Quality Planning for New Product Development.
Other duties as assigned
Job Requirements:
Minimum of 5 years experience working with quality systems required
Bachelor's Degree in Science, Technology, Engineering, or Mathematics, or relevant equivalent concentration
Extensive knowledge of Medical Device standards and regulations including ISO 13485, ISO 14971, FDA regulations QSR, IEC 60601-1 including particular and collateral standards, IEC 62304 Medical device software life cycle and IEC 62366 Usability
Experience in Design Controls for Electromechanical Medical Devices and Disposables including design transfer to manufacturing, experience should include Risk Management and Reliability Engineering
Ability to understand Medical Devices Quality Systems and be able to implement systemic changes to enhance product quality and improve business efficiency.
Expertise in Design Verification, Design Validation Process, Test Method and Software Validation for Medical Devices
Ability to participate and provide leadership on teams and maintain positive work environment with those teams. Understands team functions, leadership technique, time management, project management methodologies and able to balance multiple task assignments
Excellent communication skills (verbal, written, and presentation). Understands how to present information dependent upon the level of the audience.
When you apply, don't forget to mention that you found this Job Post on JobsRepo.com