Senior Quality Automation Engineer | 6+ Yrs | Bangalore
Experienced
Full Time
Experience: 6+ Years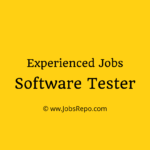 Website Finastra
Job Description:
Work closely with development engineering and product development teams to understand the Quality Assurance Overall with specific focus on Automation.  This position requires a highly motivated individual that is comfortable with rapid changes in direction and a fluid environment.  The successful candidate should be detail-oriented, approachable, dependable, and reliable with good business sense and judgment.  This position requires a self-starter with the ability to manage & prioritize multiple concurrent automation and automation testing projects.
Job Roles and Responsibilities:
Your deliverables will include, but are not limited to, the following:
Deliver against automation engineering goals
Execute automation Engineering and Testing activities leveraging Agile methodology
Create, re-factor, extend, and maintain automation test scripts.
Help determine appropriate metrics to be gathered during automation testing and be responsible for analyzing and tracking against these automation testing metrics on an ongoing basis.
Help determine appropriate benchmarks for automation and be responsible for analysis and tracking against these benchmarks.
Design and implement automation tests using industry standard tools, and custom solutions.
Understanding of impact of application design on automation.
Work collaboratively across multiple teams to achieve results.
Communicate test results vs. test schedule and test plans.
Job Requirements:
Minimum 6 years of  progressive technical experience in Development, design, automation engineering roles
Minimum 6 years of experience with testing tools (UFT and Selenium) is a strong preference
Experience working within a fast-paced Agile/SCRUM system is a strong preference
Experience with source control and issue tracking systems.
When you apply, don't forget to mention that you found this Job Post on JobsRepo.com