Senior QA Engineer | 5+ Yrs | USA
Experienced
Full Time
Experience: 5+ Years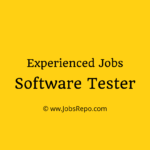 Website Fidelity
Job Requirements:
5+ years of relevant technical experience and experience in test automation
Bachelor's Degree or equivalent in a technology related field (Computer Science, Engineering, etc.) required.
Strong working knowledge of Relational Databases like Oracle or Postgres.
Experience with PL/SQL and complex queries, views, packages etc.
Expertise in Java, Python, Karate and/or Cucumber.
Expert knowledge in test automation frameworks and demonstrate proficiency, quality and passion in your coding ability
Experience with UI and Microservices Architecture, Restful API's, Enterprise messaging like ActiveMQ, Kafka
Experience with DevOps, Continuous Integration and Delivery tools like Jenkins, Maven, uDeploy, Stash.
Your experience in executing projects in an Agile environment.
Your ability to collaborate with other technical and business experts in the team
Curiosity to stay current with new and emerging technologies and concepts, finding ways to apply those to business problems.
Your passion to follow modern test driven and automation driven software development methodologies.
Design, develop, maintain, and execute automated tests while adopting industry best practices and tools.
Job Roles and Responsibilities:
Keeping the focus of the work in terms of Customer obsession.
Embrace continuous improvement regarding application quality and stability.
Strong sense of ownership for the quality of solution delivery.
Being candid and honest in all discussions to ensure the best outcomes.
When you apply, don't forget to mention that you found this Job Post on JobsRepo.com