Senior QA Engineer | 5 – 7 Yrs | Bangalore
Experienced
Full Time
Experience: 5 - 7 Years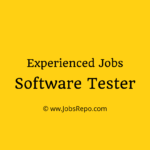 Website Amadeus
Job Description:
The candidate will be involved in requirement understanding, Test Plan creation, scripting, validation and signoff of change requests.
Candidate will work as Functional QA Engineer and will be automating the test iterations using Python Scripting language and internal dashboards. He/she should also be able to directly address the issues raised in IR/PTRs.
Candidate who has knowledge on any scripting language is preferred.
Candidate should have good interpersonal, presentation and communication skills and in his/her capacity as a Senior Software Engineer, he/she will have to interact with cross-functional teams spread over Bangalore and Nice in form of email/phone calls or chat messages.
Job Roles and Responsibilities:
Requirement Analysis
Creation of Test strategy, Test Plan, Test case
Test scripting.
Validation and signoff.
Work with Business Analyst/developers to identify and correct defects.
Defect tracking and periodic follow up of issues.
Job Requirements:
5 to 7 years of relevant experience
Experience in Test Planning, Test case design, Test strategy, Test validation.
Experience on any Automation/Regression Framework is a plus.
Experience on any scripting language is a plus
Experience in working with regular expressions is a plus.
Knowledge and experience on GIT/STASH is a plus.
Knowledge and experience on ALM is a plus.
Travel domain knowledge will be preferred.
Excellent analytical and problem-solving skills.
Excellent communication skills.
When you apply, don't forget to mention that you found this Job Post on JobsRepo.com