Senior Python Software Engineer | 5+ Yrs | USA
Experienced
Full Time
Experience: 5+ Years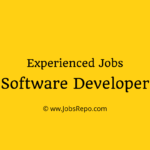 Website NVIDIA
Job Description:
As a software engineer in our Internal Infrastructure Group, you will craft Python-based infrastructure tools and libraries for teams monitoring and following up on issues with workflows and the security of our IP. This will enable workflows for worldwide chip development, verification, and artificial intelligence. The systems you develop will operate at large scale—being deployed as first class infrastructure to service millions of requests per day in distributed cloud computing environments with thousands of heterogeneous servers. You will continuously innovate and develop scalable, reliable, high performance systems, APIs, and tools to enable the next generation of chips in cooperation with a variety of teams at NVIDIA!
Job Roles and Responsibilities:
Design and implement new infrastructure to give us insight into the performance of workflows and alignment with our security policies.
Participate in the full life-cycle of tool development, test, and deployment of the tools you develop.
Work closely with a diverse set of internal engineering teams to understand the workflows involved in the capabilities being exposed.
Directly contribute to the overall quality of and improve time to market for our next generation chips and deep learning models.
Job Requirements:
Solid understanding of Python and language-agnostic data transports (protocol buffers, JSON (REST), etc).
Proven strong software engineering skills and craftsmanship.
Experience with Linux development programming tools.
Proven object-oriented programming skills including design patterns.
Strong interpreted language application skills.
Excellent planning and interpersonal skills.
Flexibility/adaptability working in a dynamic environment with changing requirements.
Self-motivated and proactive problems problem solving skills that drive solutions to completion.
MS (preferred) or BS in Computer Science or equivalent experience.
5+ yrs of experience.
Preferred Skills:
Experience developing and deploying widely-used APIs and/or other software at scale.
Experience deploying Python and language-agnostic APIs to expose current tools for use by Python and other language developers.
Deep understanding of distributed and microservice architecture principles.
Expertise with environment virtualization
Consistent track record of leading small to medium sized teams of developers
Experience with design and development of language/technology-agnostic APIs and services.
Experience in building or interacting with continuous integration and continuous delivery systems.
5+ years industry experience developing with Python.
A passion for improving the efficiency and effectiveness of other engineers.
Familiarity with chip design, verification, and/or machine learning workflows.
When you apply, don't forget to mention that you found this Job Post on JobsRepo.com